Netsuite
an affordable cloud solution for your business
Oracle NetSuite is a cloud-based business management solution.
It automates all the core processes of an organization.
It provides real-time visibility into operational and financial performance.
It is a single integrated package of applications that manages accounting, order processing, inventory management, production, supply chain and warehouse management.
It acts as a comprehensive tool for an organization which can be used to have full control over its business.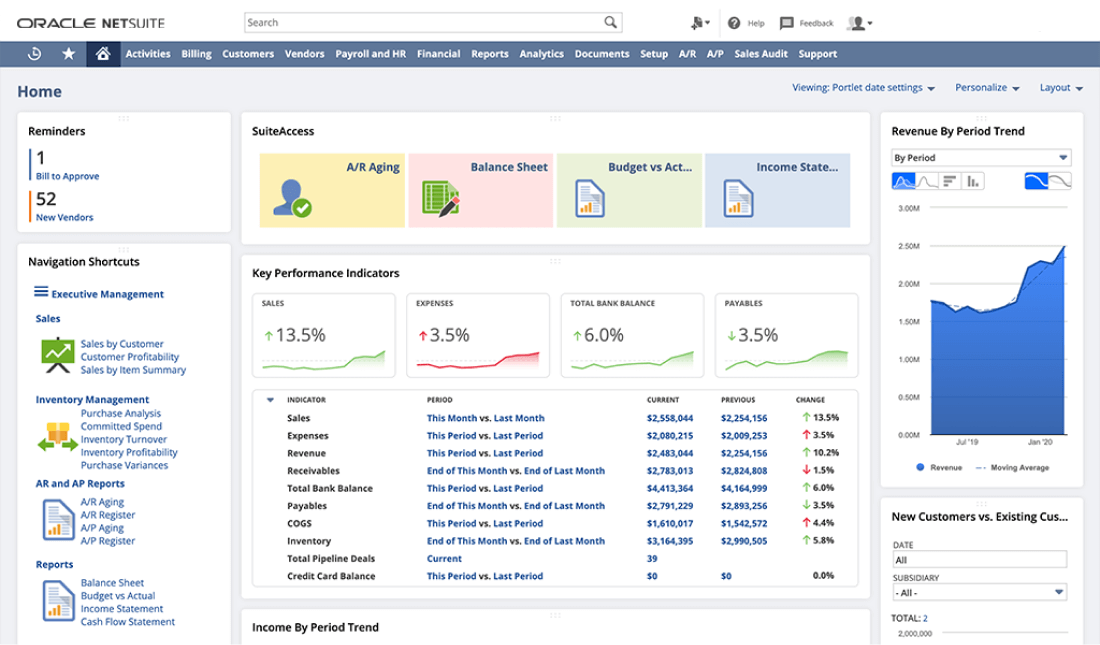 Dashboards can be customized for various user roles. These dashboards provide an overview or in-depth analysis of the business activity.
Similarly, reports and visual analytics can also be created and customized.
It controls the flow of goods from suppliers to customers. An organization can carry out its order management and procurement activities without any error.
It reduces picking errors and hence increases warehouse efficiency.
It provides a detailed view of the inventory, minimizes carrying costs and delivers orders on time.
It automates financial operations.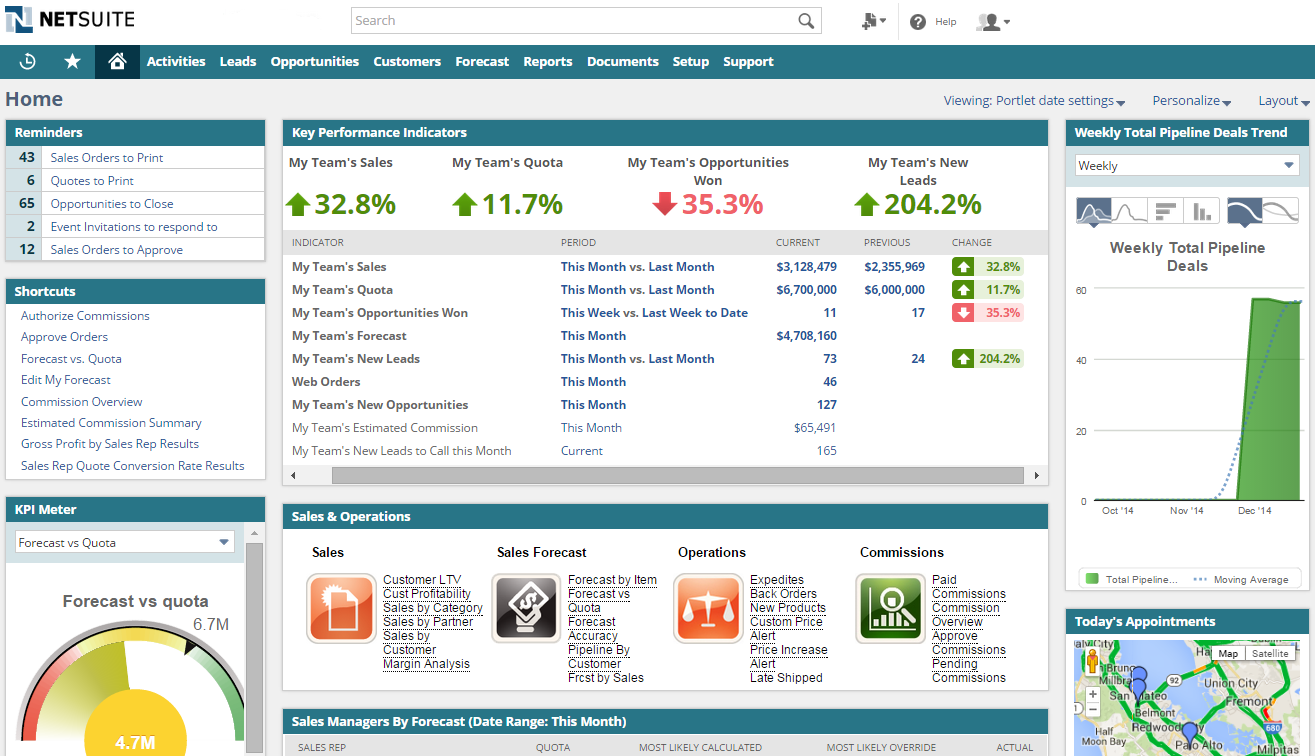 OneWorld
NetSuite OneWorld helps organizations manage global operations, including multiple currencies, tax rules and reporting requirements across geographical boundaries and subsidiaries.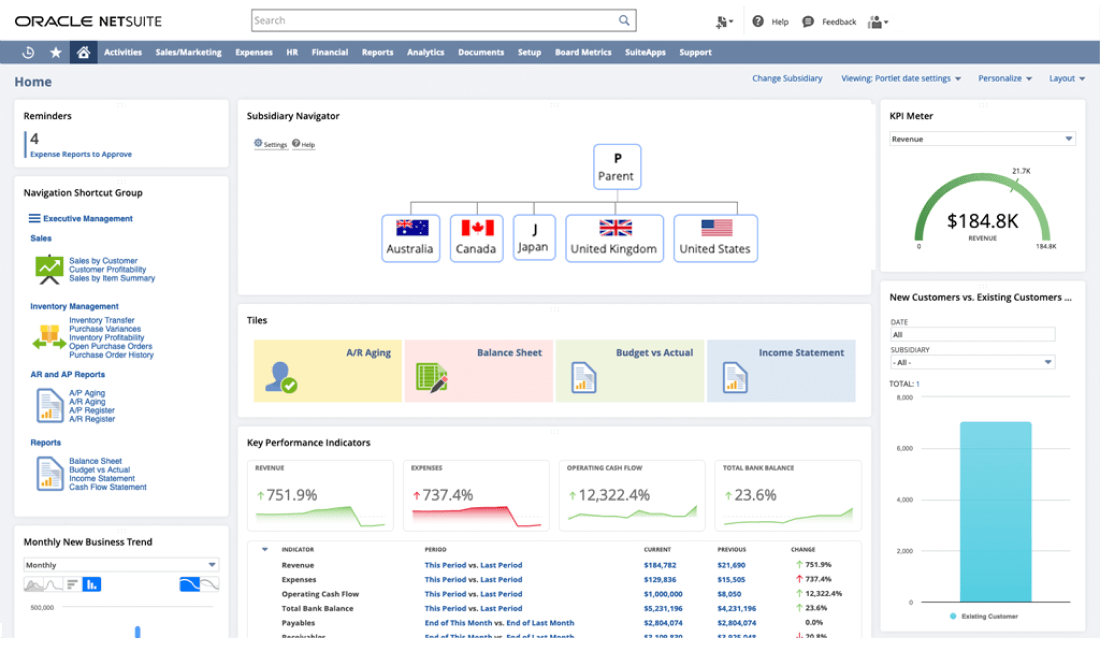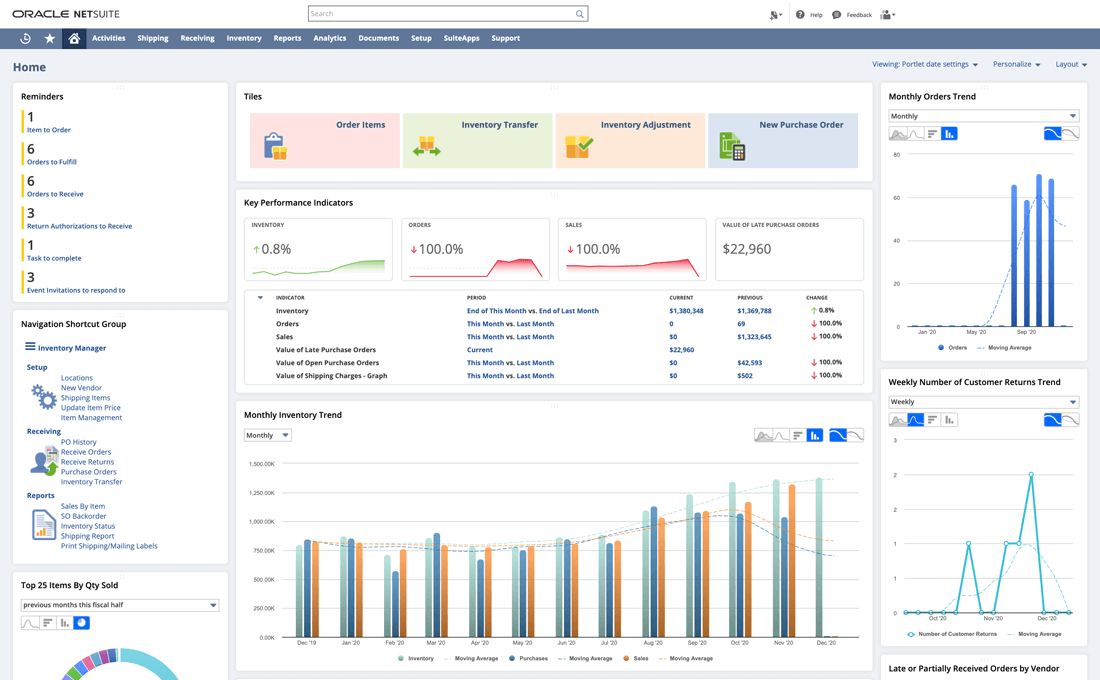 Inventory Management
NetSuite automates inventory management by providing tools to track inventory stock in multiple locations, determine re-order levels managing replenishment and optimize safety stock.
Procure to Pay
NetSuite lets you control your procure to pay process by integrating all the related activities starting from purchase requisition to purchase order including intermediary activities like RFQ and contract agreements with the vendors.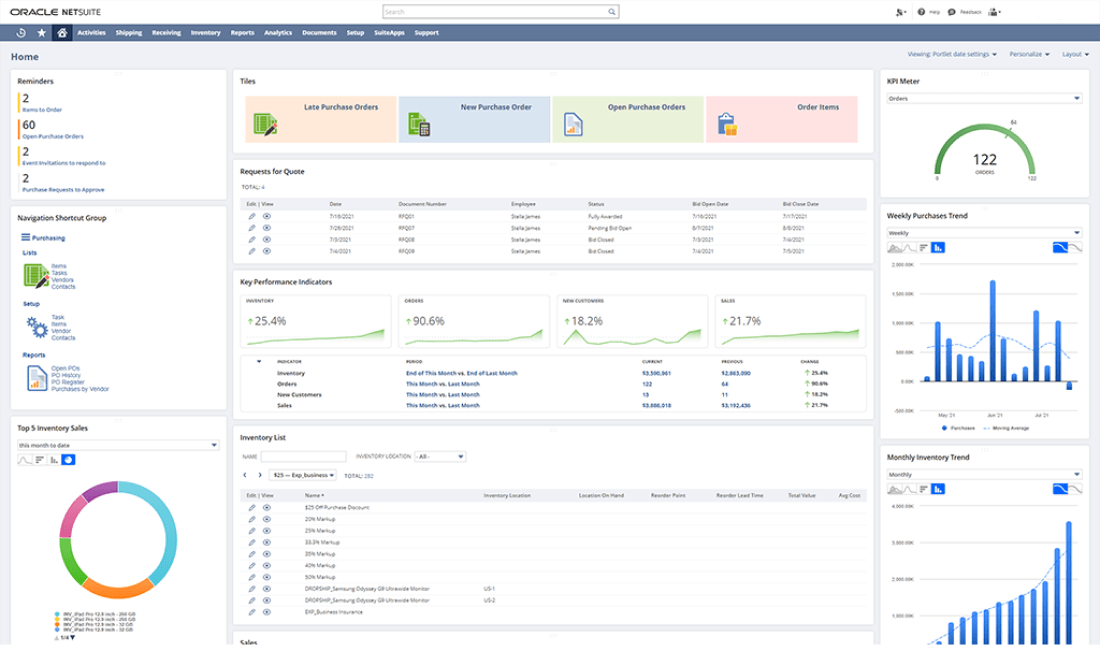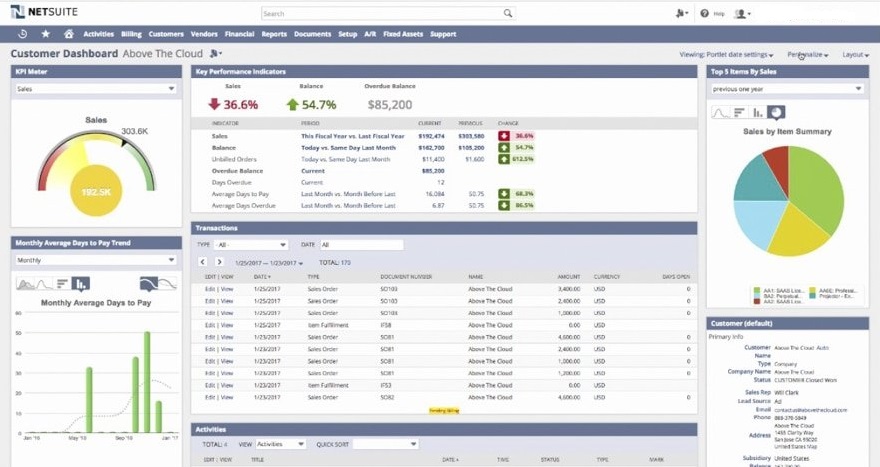 Order to Cash
NetSuite streamlines order processing by removing manual bottlenecks and errors and establishes smooth flow from order quote to order fulfilment.
Finance
NetSuite expedites financial transactions and accelerates the close process, hence ensuring compliance. Organizations can get real-time view of their business' financial performance from a consolidated level down to individual transactions.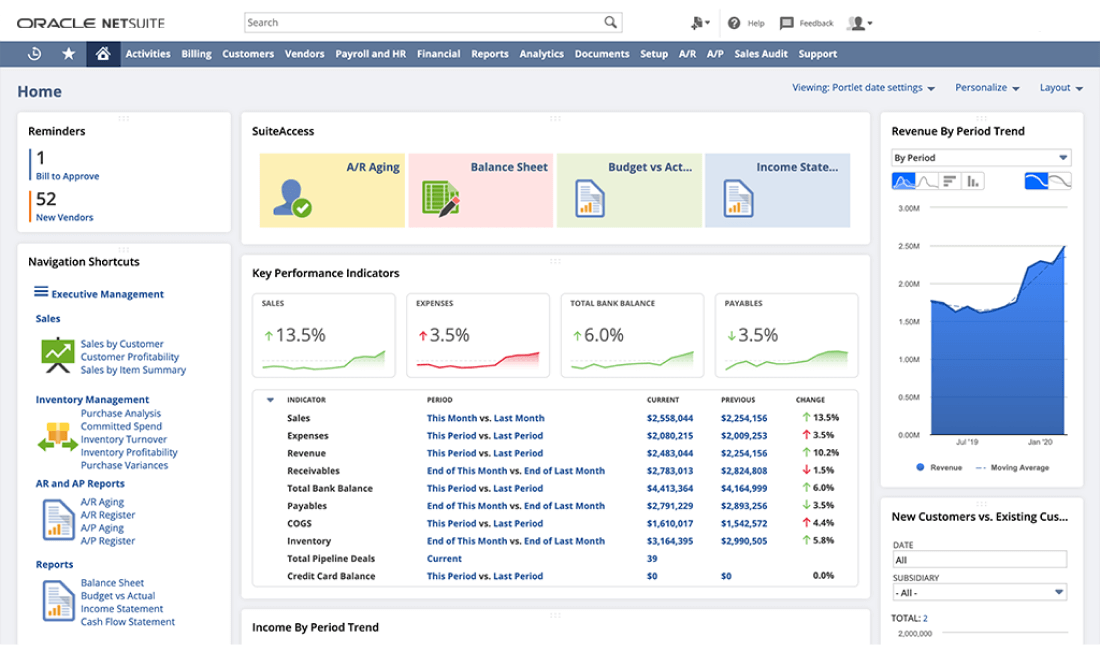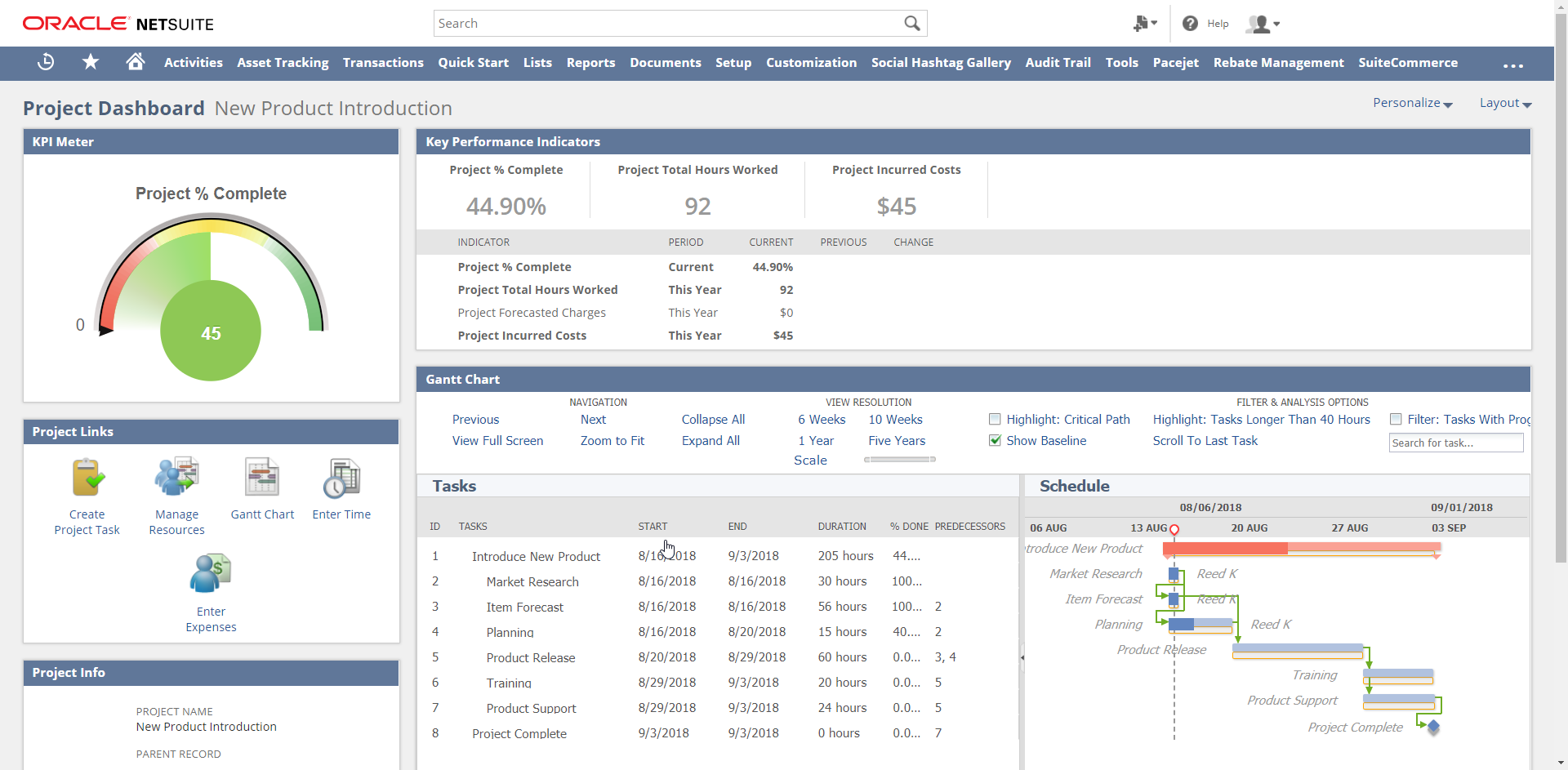 Project
Manage your services organization more effectively with integrated project management, project tracking and reporting with NetSuite Project Management. You can automate project creation when specific services are sold and automatically track percent complete, time budgeted and time spent on project tasks. Reports for utilization and backlog help analyze employee workloads and efficiency.
Conacent has implemented the seeded features of Oracle NetSuite and has been providing support to its clients in various sectors.
Apart from the above, the following operations have been customized in Oracle NetSuite by Conacent's internal development team according to the clients' requirements:

Bank Loan and Repayment: It is made up in two parts – loan amount deposit and repayment. The principal amount and the interest on the principal amount are divided across each month in the loan tenure. The EMI is always paid to the bankor lender on a fixed date each month until the total due amount is paid off during the tenure. This end to end calculation is fully automated.

Intercompany Loan: This covers loans made from one entity of a business group to another. It is divided in three parts – Loan Paid, Loan Received and Interest Payable/Receivable calculation. Loan received operation is fully automated based on the loan payment. Automatically logical interest calculation can be performed based on the future scenario.

Intercompany Trade – Invoice date more than 180 days: This refers to the operation of purchase & sale of goods/service within two entities of a business group. It is segregated in three parts – procure to pay, order to cash and transfer the balance to loan. P2P & O2C activities are same as regular intercompany transactions. Conversion into loan and interest calculation can be executed by carried out by clicking a single button, which is purely customized.
Marketplace Commission Calculation: It is a fully customized development to fulfill e-commerce business requirements. End to end activities are locked up in NetSuite and Item specific commission calculation is automated along with tax implications. Item category wise commission percentage is a predefined process for a particular period.
Margin Calculation: It is a tricky operation in e-commerce platform though we have developed and designed it in a simple way. Based on purchase /sales data,the system auto-calculates the margin value and creates accurate invoice along with tax implications.

Inclusive Tax calculation: It is a customized logic built in NetSuite to calculate inclusive GST/other tax for all type of transactions. Configuration steps are not required from user's end and this is how simply it has been developed.

TDS on AR Receipt: This operation is developed by using NetSuite standard accounting at the time of AR Receipt creation. Additional configuration & maintenance would not be needed from user's end as it is a simple one time development. Calculation and accounting is automated based on transaction data.

NetSuite Vendor Payment to Bank Integration: This is developed to integrate vendor payment in NetSuite with respective bank payments. We have linked it through API by following appropriate security and method. Once vendor payment is executed in NetSuite, actual payment will be released from your bank to the vendor. In NetSuite, different levels of approval can be introduced during vendor payment and based on the final approval, payment will be released.

Bank Reconciliation Statement: It is a completely separate portal which can be linked with NetSuite through API to collect data. This portal is designed as extremely simple for users to understand each activity. SML login can be enabled based on the requirement of the client. Data can be uploaded here through CSV file as well.

GST E-Invoice generation: Since October 2020, E-Invoice is mandatory for a particular group of organizations. We designed it in a very user friendly manner and linked it with Clear Tax server through API to send data. Clear Tax quickly generates IRN No, QR Code, Acknowledgement No, etc based on API data and sends it back to NetSuite again through API.

Project Management (for material movements): Oracle NetSuite handles project management for service industry with its seeded features. Conacent has additionally developed a customized solution whereby project management for material movements from your integral system can be linked to Oracle NetSuite through API, sothat you will have a comprehensive Project Management module in NetSuite for your business
Oracle NetSuite is a cloud-based business management solution.

It automates all the core processes of an organization.

It provides real-time visibility into operational and financial performance.

It is a single integrated package of applications that manages accounting, order processing, inventory management, production, supply chain and warehouse management.

It acts as a comprehensive tool for an organization which can be used to have full control over its business.

Dashboards can be customized for various user roles. These dashboards provide an overview or in-depth analysis of the business activity.

Similarly, reports and visual analytics can also be created and customized.

It controls the flow of goods from suppliers to customers. An organization can carry out its order management and procurement activities without any error.

It reduces picking errors and hence increases warehouse efficiency.

It provides a detailed view of the inventory, minimizes carrying costs and delivers orders on time.

It automates financial operations.

OneWorld

NetSuite OneWorld helps organizations manage global operations, including multiple currencies, tax rules and reporting requirements across geographical boundaries and subsidiaries.

Inventory Management

NetSuite automates inventory management by providing tools to track inventory stock in multiple locations, determine re-order levels managing replenishment and optimize safety stock.

Procure to Pay

NetSuite lets you control your procure to pay process by integrating all the related activities starting from purchase requisition to purchase order including intermediary activities like RFQ and contract agreements with the vendors.

Order to Cash

NetSuite streamlines order processing by removing manual bottlenecks and errors and establishes smooth flow from order quote to order fulfilment.

Finance

NetSuite expedites financial transactions and accelerates the close process, hence ensuring compliance. Organizations can get real-time view of their business' financial performance from a consolidated level down to individual transactions.

Project

Manage your services organization more effectively with integrated project management, project tracking and reporting with NetSuite Project Management. You can automate project creation when specific services are sold and automatically track percent complete, time budgeted and time spent on project tasks. Reports for utilization and backlog help analyze employee workloads and efficiency.

Conacent has implemented the seeded features of Oracle NetSuite and has been providing support to its clients in various sectors.

Apart from the above, the following operations have been customized in Oracle NetSuite by Conacent's internal development team according to the clients' requirements:

Bank Loan and Repayment: It is made up in two parts – loan amount deposit and repayment. The principal amount and the interest on the principal amount are divided across each month in the loan tenure. The EMI is always paid to the bankor lender on a fixed date each month until the total due amount is paid off during the tenure. This end to end calculation is fully automated.

Intercompany Loan: This covers loans made from one entity of a business group to another. It is divided in three parts – Loan Paid, Loan Received and Interest Payable/Receivable calculation. Loan received operation is fully automated based on the loan payment. Automatically logical interest calculation can be performed based on the future scenario.

Intercompany Trade – Invoice date more than 180 days: This refers to the operation of purchase & sale of goods/service within two entities of a business group. It is segregated in three parts – procure to pay, order to cash and transfer the balance to loan. P2P & O2C activities are same as regular intercompany transactions. Conversion into loan and interest calculation can be executed by carried out by clicking a single button, which is purely customized.

Marketplace Commission Calculation: It is a fully customized development to fulfill e-commerce business requirements. End to end activities are locked up in NetSuite and Item specific commission calculation is automated along with tax implications. Item category wise commission percentage is a predefined process for a particular period.

Margin Calculation: It is a tricky operation in e-commerce platform though we have developed and designed it in a simple way. Based on purchase /sales data,the system auto-calculates the margin value and creates accurate invoice along with tax implications.

Inclusive Tax calculation: It is a customized logic built in NetSuite to calculate inclusive GST/other tax for all type of transactions. Configuration steps are not required from user's end and this is how simply it has been developed.

TDS on AR Receipt: This operation is developed by using NetSuite standard accounting at the time of AR Receipt creation. Additional configuration & maintenance would not be needed from user's end as it is a simple one time development. Calculation and accounting is automated based on transaction data.

NetSuite Vendor Payment to Bank Integration: This is developed to integrate vendor payment in NetSuite with respective bank payments. We have linked it through API by following appropriate security and method. Once vendor payment is executed in NetSuite, actual payment will be released from your bank to the vendor. In NetSuite, different levels of approval can be introduced during vendor payment and based on the final approval, payment will be released.

Bank Reconciliation Statement: It is a completely separate portal which can be linked with NetSuite through API to collect data. This portal is designed as extremely simple for users to understand each activity. SML login can be enabled based on the requirement of the client. Data can be uploaded here through CSV file as well.

GST E-Invoice generation: Since October 2020, E-Invoice is mandatory for a particular group of organizations. We designed it in a very user friendly manner and linked it with Clear Tax server through API to send data. Clear Tax quickly generates IRN No, QR Code, Acknowledgement No, etc based on API data and sends it back to NetSuite again through API.

Project Management (for material movements): Oracle NetSuite handles project management for service industry with its seeded features. Conacent has additionally developed a customized solution whereby project management for material movements from your integral system can be linked to Oracle NetSuite through API, sothat you will have a comprehensive Project Management module in NetSuite for your business